GENERAL DENTISTRY NEAR YOU
General dentistry is the formal name for the practice of preventative, restorative, and cosmetic dental treatments. A general dentist has a wide skill set that allows them to provide these three different types of treatments in order to manage a patient's oral health. The majority of general dental services are aimed at preventing common dental issues like tooth decay and gum disease. However when these problems do occur, restorative dental services are used to treat the problem and restore oral health. Finally, cosmetic dental procedures are used to restore teeth, while also improving the look of the smile. 
Did You Know?
Regular dental exams allow your dentist to closely monitor your teeth and gums for early signs of dental issues. When detected early, these problems may be able to be reversed or easily treated. 
Frequently Asked Questions: 
Am I a candidate for general dentistry?
Everyone is an ideal candidate for general dentistry regardless of their current age or oral health condition. As mentioned before, general dentistry encompasses preventative, restorative, and cosmetic treatments. This ultimately means that even if you are in good dental health, you should still visit your dentist at least twice a year according to the Canadian Dental Association.
What types of services does my Kamloops general dentist offer?
Your Kamloops general dentist offers the following preventative, restorative, and cosmetic dental treatments: 
What can I expect when visiting my Kamloops dental office?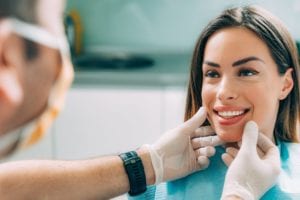 When visiting your Kamloops dental office for general dental services, you can first expect to fill out paperwork detailing your medical history and list of current medications. This helps your dentist to identify possible medical conditions or medications that can possibly affect your oral health. Next, you will have
dental x-rays
taken to provide various images of the underlying bone structure. 
You can then expect to undergo a dental exam, where your general dentist will evaluate your teeth, gums, and bite. They will make sure everything is functioning properly and will look for any early signs of tooth decay or gum disease. Your dental x-rays will also be examined for any abnormalities. Any findings will then be discussed with you and any questions you have will be answered. 
Then you will have your teeth professionally cleaned to remove excess plaque and tartar from your teeth to decrease the risk of developing future tooth decay or gum disease. A tool called a dental scaler is used to remove plaque and tartar by scraping or applying a stream of water. The scaler will be used to clean the entire front and back surface of each tooth. Next, your teeth will be brushed, flossed, and rinsed to remove any remaining debris. Finally, a fluoride polish will be brushed over the surface of your teeth. 
At this point, your appointment will be complete if nothing was found during your exam. If, however, restorative treatments are needed, you may have the option of doing them the same day or rescheduling for a future date. This usually depends on the type of procedure, your schedule, and how busy the office is that day.