A chipped tooth can be a pain, both literally and figuratively. If you've just chipped your tooth, don't worry – we're here to help! In this blog post, we'll give you instructions on what to do immediately after chipping a tooth. We'll also list four ways that your dentist may recommend to fix a chipped tooth: dental bonding, veneers, crowns, and dental implants.
What To Do
If you just chipped a tooth, you are probably wondering what you need to do next. Here are some instructions to help you through this difficult time:
Locate Tooth Fragments: If your tooth has broken into pieces, try to locate all of the fragments and store them in a paper towel that has been soaked in water or milk. Rinse your mouth with warm water and use a clean cloth to remove any blood, if necessary. Inspect your mouth carefully – if you can't find all of the pieces, don't worry, your dentist will be able to help.
Take Over the Counter Pain Medication: Chipped teeth can be quite painful, especially if the chip is deep. To help ease the pain, you can take over the counter pain medication such as ibuprofen or acetaminophen.
Use Ice if Necessary: If you are experiencing swelling, you can use ice to help reduce the swelling. Ice can also help with the discomfort. Place an ice pack on your cheek for 15-20 minutes at a time.
See Your Dentist: As soon as possible, make an appointment to see your dentist. They will be able to determine the best way to fix your chipped tooth.
How to Fix a Chipped Tooth
Fixing a chipped tooth can be done in a variety of ways, and the best option for you will depend on the severity of the chip and your personal preference.
Dental Bonding:
Dental bonding is one of the most common and least expensive ways to fix a chipped tooth. The dentist will use a tooth-colored resin to bond the tooth and restore its natural shape. This method is generally the most commonly used method to fix chipped teeth.
Veneers:
Veneers are thin, custom-made shells that are designed to cover the front surface of your teeth. Veneers can be used to fix a variety of dental problems, including chipped teeth. They are often ideal in cases where the chip is larger and cannot be treated with dental bonding.
Crowns:
A dental crown is a "cap" that is placed over a tooth to restore its shape, size, and strength. Crowns are often used in cases where the chip is large, deep, or if the tooth has been severely damaged.
Dental Implants:
Dental implants are artificial roots that are placed into your jawbone to support replacement teeth. In cases where the tooth has been severely chipped beyond repair, dental implants may be the best option. However, they are used as a last resort after other restoration options have failed.
In Conclusion
In this blog post, we've given you instructions on what to do if you just chipped your tooth. We've also listed four ways that your dentist may recommend to fix a chipped tooth. We hope this blog post was helpful in teaching you what to do if you chip a tooth and how to fix a chipped tooth. If you have any questions, don't hesitate to reach out to your dentist.
Take care!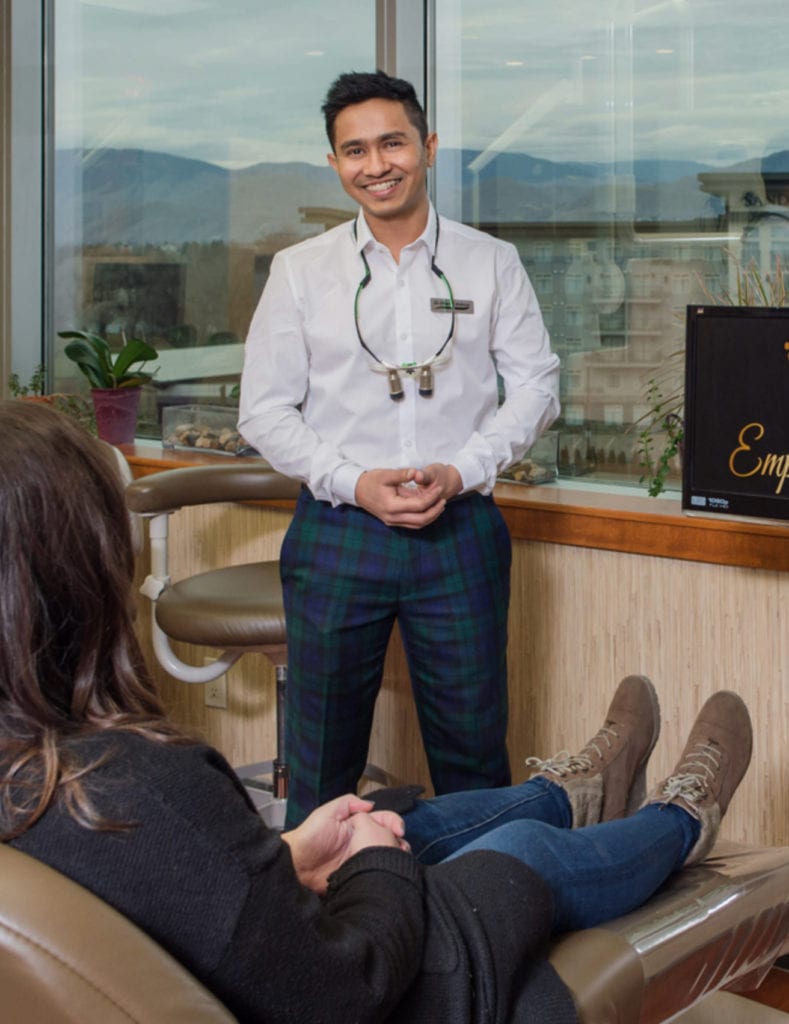 Dr. Admar holds dual certificates — a Bachelor of Dental Surgery (BDS) in 2010 from India and a Doctor of Dental Surgery (DDS) in 2014 from Canada. He is now a full time practicing dentist in Kamloops where he provides a variety of services, including emergency dentistry. Dr. Admar spends hundreds of hours in continued dental education to stay up to date in cosmetic and implant dentistry and he has achieved several advanced qualifications.