Did you know that a trip to your dentist's office can improve your overall health and reduce your risk of developing complications if you catch COVID-19? Specifically, you will need to visit your dentist's office for a professional dental cleaning, whereby plaque, bacteria, and tartar are removed from the surface of your teeth. Additionally, you will need to maintain daily oral hygiene through brushing twice a day for two minutes and flossing daily. Combined, regular dental visits and good daily oral hygiene can potentially allow you to avoid complications in the case that you develop a COVID-19 infection.
The Relationship Between COVID-19 and Poor Oral Hygiene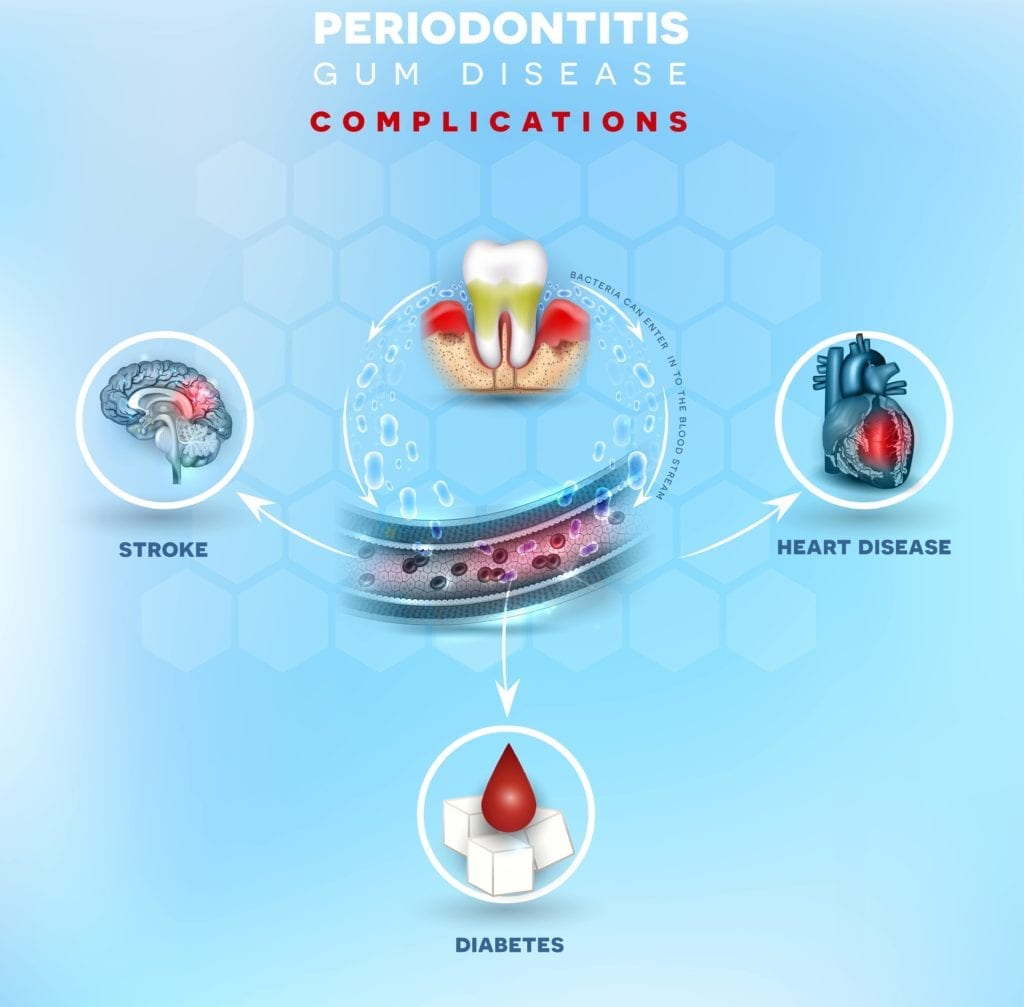 As you may or may not know, your overall health is directly related to your overall health. This is because the bacteria responsible for tooth decay and gum disease have the ability to overwhelm the mouth and enter the bloodstream in order to travel around the body. When this happens, these bacteria can cause a variety of complications depending on where they end up. Some possible health complications caused by poor oral health are: hypertension, stroke, heartattack, diabetes, clogged arteries, endocarditis, pneumonia or other respiratory problems, and pregnancy complications such as low birth weight and preeclampsia. The article notes that "patients with periodontal disease are at a 25% increased risk of cardiovascular disease, triple the risk of diabetes mellitus, and a 20% increased risk of hypertension".
Additionally, research now suggests that oral bacteria could also be related to the severity of COVID-19 infections. This idea is explored further in the article, "Could there be a link between oral hygiene and the severity of SARS-CoV-2 infections" found on the National Center for Biotechnology Information database. Using data obtained from the 1918 influenza pandemic that found a relationship between viruses and bacterial load, researchers evaluated patients diagnosed with COVID-19 to determine their bacterial levels. Among patients in the ICU diagnosed with severe COVID-19 symptoms, 80% had secondary bacterial infections. In addition, as many as 50% of COVID-19 deaths were associated with secondary bacterial infections.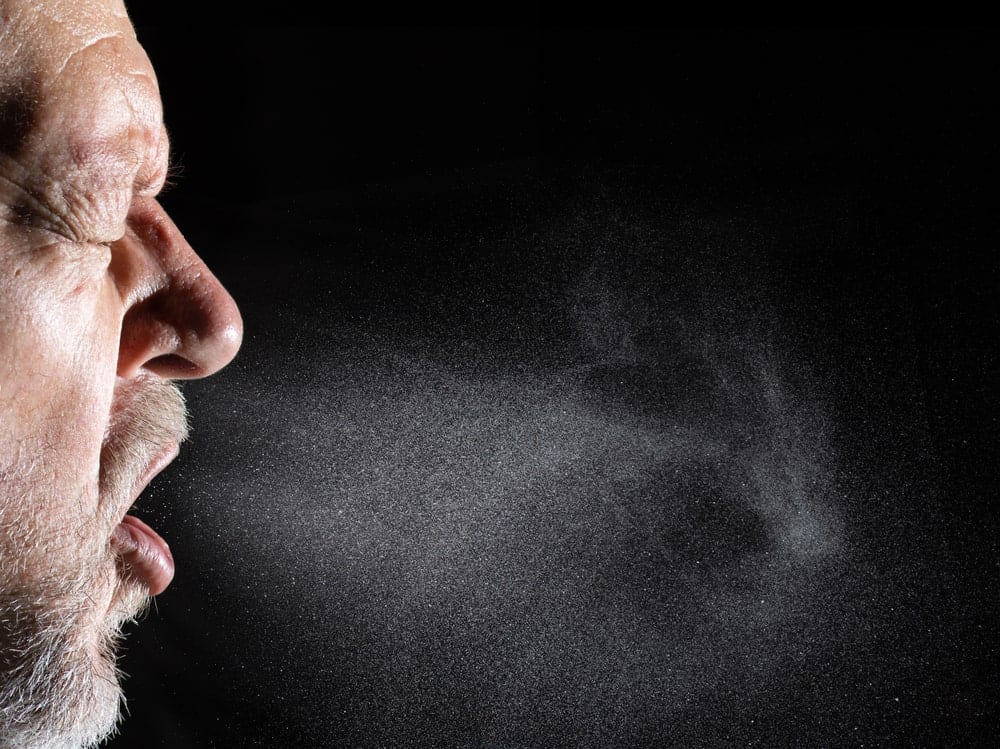 Although research is still being done in this area, the data found in this article suggests that patients with COVID-19 are at a higher risk of complications when the virus is accompanied by high amounts of bacteria. This is especially problematic if these bacteria are able to enter the lungs either through inhalation or through the aspiration of oral secretions containing bacteria. In fact, the article notes,  "…inadequate oral hygiene can increase the risk of inter-bacterial exchanges between the lungs and the mouth, increasing the risk of respiratory infections and potentially post-viral bacterial complications".
How does my dentist help protect me against COVID-19?
For starters, your dentist and their office staff follow a number of protocols designed to hinder the spread of COVID-19 during routine dental work. This means that you can safely visit the dentist's office for preventative procedures such as dental cleanings. To prevent excess bacteria from forming in your mouth and traveling to your lungs, it is recommended to have your teeth cleaned every six months. However, there are some cases where you may need to attend more frequent dental appointments, especially if you have been diagnosed with periodontal disease.  Proper dental care is especially important for those who have diabetes, hypertension, and heart disease, since these conditions are associated with both high amounts of oral bacteria and COVID-19 complications.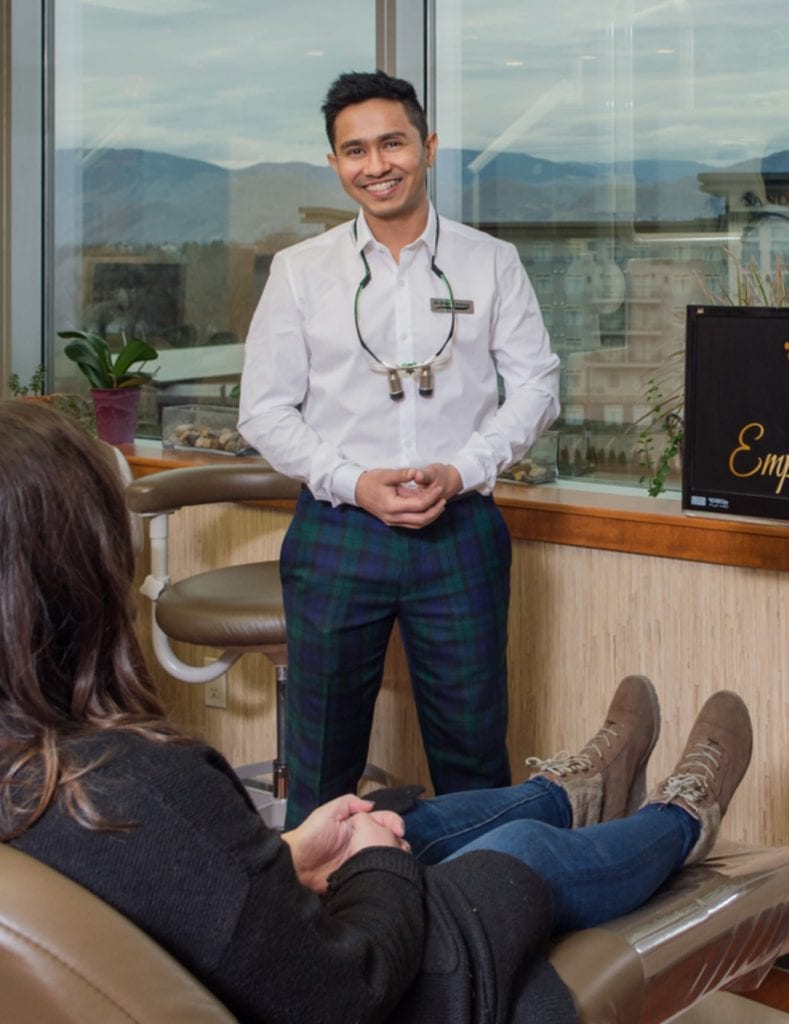 Dr. Admar holds dual certificates — a Bachelor of Dental Surgery (BDS) in 2010 from India and a Doctor of Dental Surgery (DDS) in 2014 from Canada. He is now a full time practicing dentist in Kamloops where he provides a variety of services. Dr. Admar spends hundreds of hours in continued dental education to stay up to date in cosmetic and implant dentistry and he has achieved several advanced qualifications.