Many people are unhappy with their crooked teeth. As cosmetic dentistry has become more advanced, there are now many ways to get straight teeth! In this blog post, we will discuss the 3 most popular options for straightening your teeth: veneers, Invisalign, and crowns. Veneers involve taking a thin layer of enamel off of your tooth and replacing it with a thin layer of porcelain. Invisalign involves wearing clear aligner trays that gradually move teeth into place over time. And finally, crowns involve getting a new tooth (or multiple) made to cover up your old one(s). Let's take a closer look at these three options: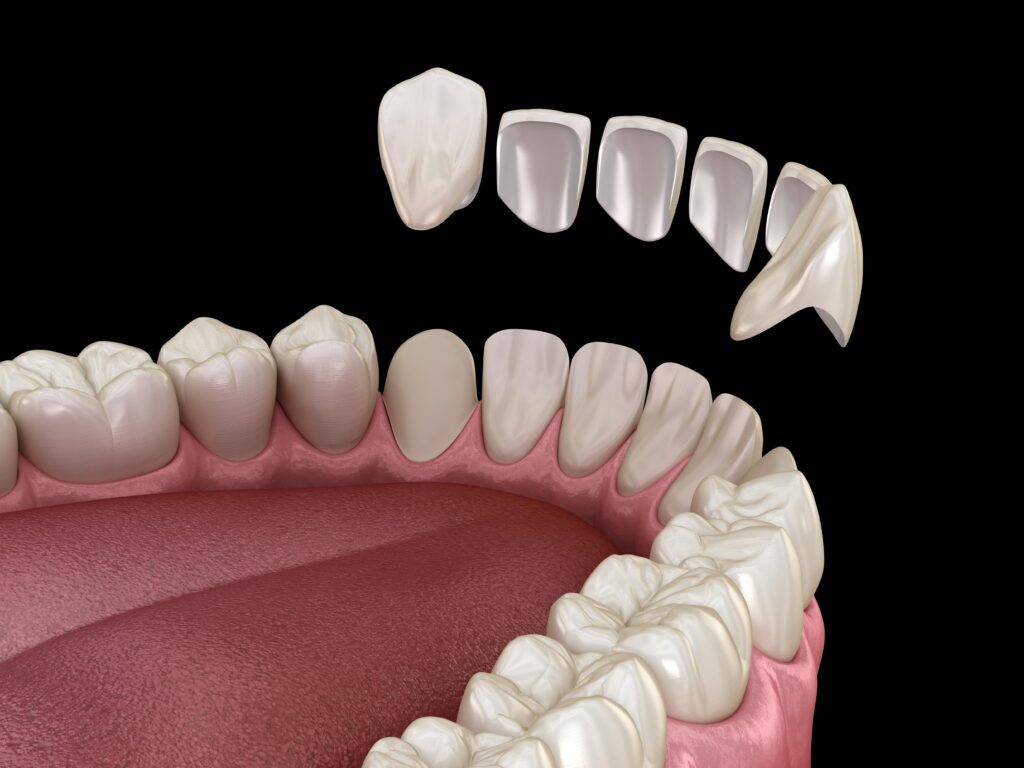 Veneers
Veneers are thin shells of porcelain that are fitted and adhered to the front of your teeth to make them aesthetically pleasing. The process for veneers starts with an appointment with a cosmetic dentist. After examining your teeth, the cosmetic dentist will remove a thin layer of enamel from your tooth and replace it with a thin layer of porcelain. Porcelain is stronger and more stain-resistant than regular enamel which makes veneers more durable and less susceptible to chips, cracks, or stains. Veneers are fabricated in a dental lab, which means that you will need to attend at least two dental appointments: one to prepare your teeth, and one to have your veneers adhered. Once in place, veneers last for 10-15 years before needing to be replaced.
Invisalign
Invisalign is a way to straighten teeth without the use of metal braces or wires. Instead, clear aligner trays are custom fabricated according to your individual treatment plan. These clear trays are worn over your teeth for 22 hours a day and are switched out every 1-2 weeks in order to gradually move your teeth into proper alignment. The process can take anywhere from 6-18 months depending on how severe your tooth misalignment is. Although Invisalign treatment takes the longest to complete, it will permanently change the position of your teeth so that they should remain straight for the rest of your life. However, most treatments will require that you wear a retainer to maintain your results.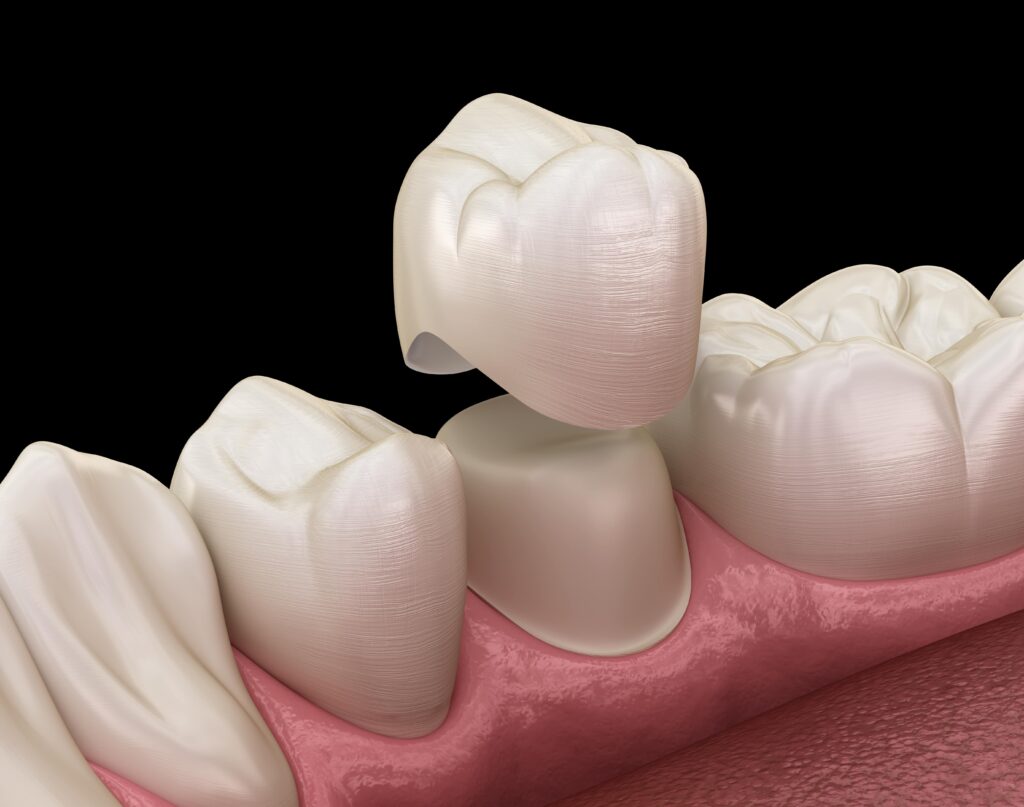 Crowns
Crowns are a cosmetic dentistry procedure to restore decayed or damaged teeth. They are an ideal cosmetic treatment for teeth that have dark stains, large cosmetic fillings, worn down edges, gaps between the teeth, or cosmetic flaws. They can also be used to cover up crooked teeth in order to make them appear straighter and/or more evenly spaced. It is important to note that crowns will cover the entire visible portion of your tooth, while veneers only cover the front. Like veneers, however, crowns are fabricated in a dental lab and are fitted for your mouth by the cosmetic dentist. This means that you will need to attend two dental appointments. Crowns will also need to be replaced in 10-15 years when they wear out.
Straightening crooked teeth can be achieved with cosmetic dentistry procedures. A cosmetic dentist will use veneers, Invisalign, or dental crowns to straighten your teeth. Veneers and crowns will straighten your teeth by changing the appearance of them, while Invisalign will actually change the physical position of your teeth. To find out which option is best, give our office a call today!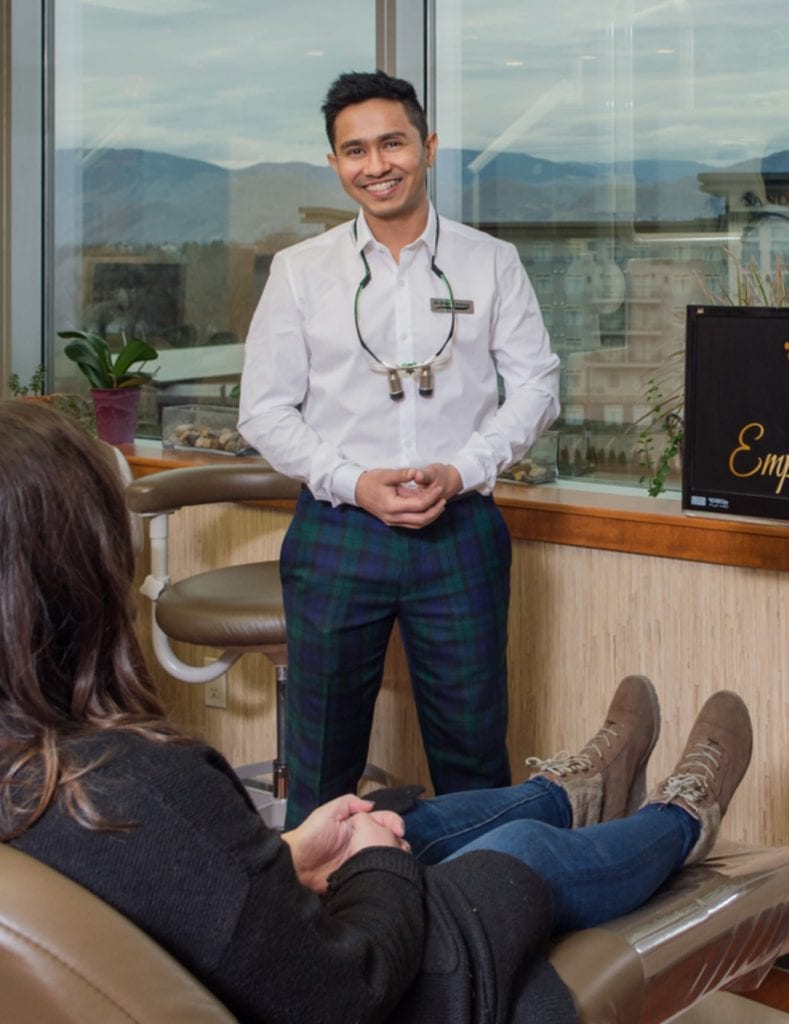 Dr. Admar holds dual certificates — a Bachelor of Dental Surgery (BDS) in 2010 from India and a Doctor of Dental Surgery (DDS) in 2014 from Canada. He is now a full time practicing dentist in Kamloops where he provides a variety of services, including emergency dentistry. Dr. Admar spends hundreds of hours in continued dental education to stay up to date in cosmetic and implant dentistry and he has achieved several advanced qualifications.